Check out these Deals and Steals!  This week you can get FREE admission to National Parks, a Dave Ramsey Budget kit for FREE, six freebies at WalMart and much more.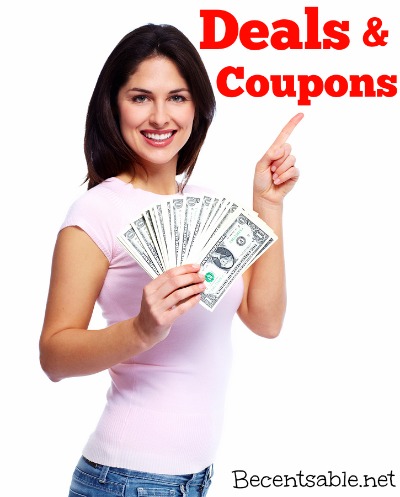 Deals and Steals:
WalMart Coupon Matchups: FREE Birds Eye, Benefiber And More 
Here are the WalMart Coupon Matchups for the week. Grab some free Birds Eye, Benefiber, Ban, Bic Soleil Disposable Razors, Poligrip Super and more.
Free Admission to National Parks
Get FREE admission to National Parks during National Park Week! Over 400 parks participate and have free admission, activities and events.
Kohl's Coupon: 20% Off Printable Coupon
We have another printable Kohl's coupon! Today we have a Kohl's coupon for up to 20% off your entire purchase and promo codes. We also have a $10 off $30 Kohl's coupon.
Organic Food At Walmart: New Wild Oats Product Line
WalMart just launched a new organic food line called Wild Oats. Save 25 percent or more when comparing Wild Oats to national brand organic products.
Retail Coupons: Children's Place, Michaels, Toys R Us And More
Here is a BIG list of Retail coupons! Print retail coupons for Children's Place, Macy's, JCPenney, Target, Kohl's, Old Navy, Reebok, Michaels and more.
Restaurant Coupons: Logan's Roadhouse, Mimi's Cafe And More 
Print restaurant coupons for Logan's Roadhouse, Villa Fresh Italian Kitchen, Souper Salad Restaurant, Mimi's Cafe, Shoney's, Del Taco, Hardee's and more.
Kellogg's Coupons: $3 Off Coupon ($.25 At Target)
We have some hot Kellogg's coupons! Use this $3 off Kellogg's coupon to get cereal for just $.25 at Target or $.99 at CVS and Walgreens!
Dave Ramsey Budget Kit: FREE Download
Run over here and download the Dave Ramsey Budget kit for FREE.
Keep tabs on all the hottest deals by subscribing to our FREE daily newsletter and follow us on Facebook! This post may contain affiliate links.